Resources
Emerging Daniel Company
By Aaron Evans
$14.99 ~ PAPERBACK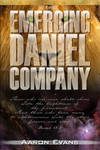 A unique book for the times we are in. It has a present Word that contains spiritual substance and life. This book is not for the complacent who desire the status quo. It is for those described in Daniel 11:32, 33, "…but the people who know their God shall be strong and carry out great exploits. And those of the people who understand shall instruct many".

***We are sorry but we are currently out of stock for this item.**

Click PURCHASE NOW to order directly from publisher.
Digital version available! $6.99

Read Emerging Daniel on your tablet or phone!